The Guinea Pig Arcade &




Crazy Cavy Fun House




home of the one and only
🔮 ♍ ♋ ♊ ♏ ♑ ♐ ♌ ♈ ♓🔮




Horoscopes and The Zodiac!
Did you know that in the Myanmar-Burmese Zodiac, one of the astrological signs is a guinea pig?!
​
For those lucky enough to be born under the sign of the guinea pig (on a Friday), you have these attributes:
​
Zodiac animal signs: Guinea Pig
Day of Week Born: Friday
Ruling Planet: Venus
Symbol: ပူး
Ruling Direction: North
Personality/Attributes of the Guinea Pig:

"You are naturally artistic and creative. You have tons of fabulous ideas, but have a hard time seeing them through to completion. This may be because you are going in so many different directions at once. But you hesitate to pick one thing because you bore easily and get tired of the same thing. You are loving, kind and very sympathetic. You are very sensitive to others, and make a wonderful friend."
You may be skeptical, and there are regional variations, but the day of the week figures prominently in the astrology of Myanmar (formerly Burma).
​
Monday – Tiger
Tuesday – Lion
Wednesday a.m. – Elephant, tusked
Wednesday p.m. – Elephant, tuskless
Thursday – Rat
Friday – Guinea Pig
Saturday – Naga (mythical dragon/serpent)
Sunday – Garuda (mythical king of birds)
​
​
You may be wondering how guinea pig got on this list? They aren't native to Burma and never have been, yet this tradition goes back to the animist worship that pre-dates Buddhism.
​
Some researchers think that although generally accepted as relating to the guinea pig today, the origins of this astrological sign may actually be related to the pika, a small, rodent between 5-9 inches long, tailless, with soft coats and faces much like rabbits, but without large ears, similar to guinea pigs.
Pikas are native inhabitants of Myanmar as well.
​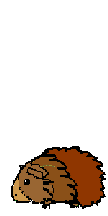 Whatever the origin, guinea pig is now the established sign. So if you (or your guinea pig) are lucky enough to be born on a Friday ... congratulations!
​
Above: Astrological painting in Bagan, Myanmar
​
​
Antique silver libation bowl with the animals of the zodiac. Burma, 1890-1910 - see the "guinea pig"?